World
TikTok video of driver sobbing after car crash confuses internet
A teenager who overturned his van has baffled TikTok users with a video of him listening to the radio in his wrecked car.
Layne Geerdes, 19, of Grinnell, Iowa, overturned a truck while trying to dodge a deer on June 16. Then he shared a video of him lying on the dashboard of the overturned vehicle, which went viral on his TikTok page with nearly 8 million views.
In the footage, Geerdes looks surprised that the radio is still working after the crash.
The aftermath of Layne Greedes' serious car accident in Grinnell, Iowa.
@laynegeerdes20/Zenger
As he sobbed into his phone's camera, he said, "I was wondering if the radio stays on when you're in a car accident…and it does…and it just plays Drake."
Geerdes said he was "not injured at all" in the accident and explained that he rolled over after swerving down a gravel road to avoid hitting a deer.
"It was just really foggy, and I was on a sharp turn on an unfamiliar road with loose gravel, and a deer ran away. I swerved, and the rest is history.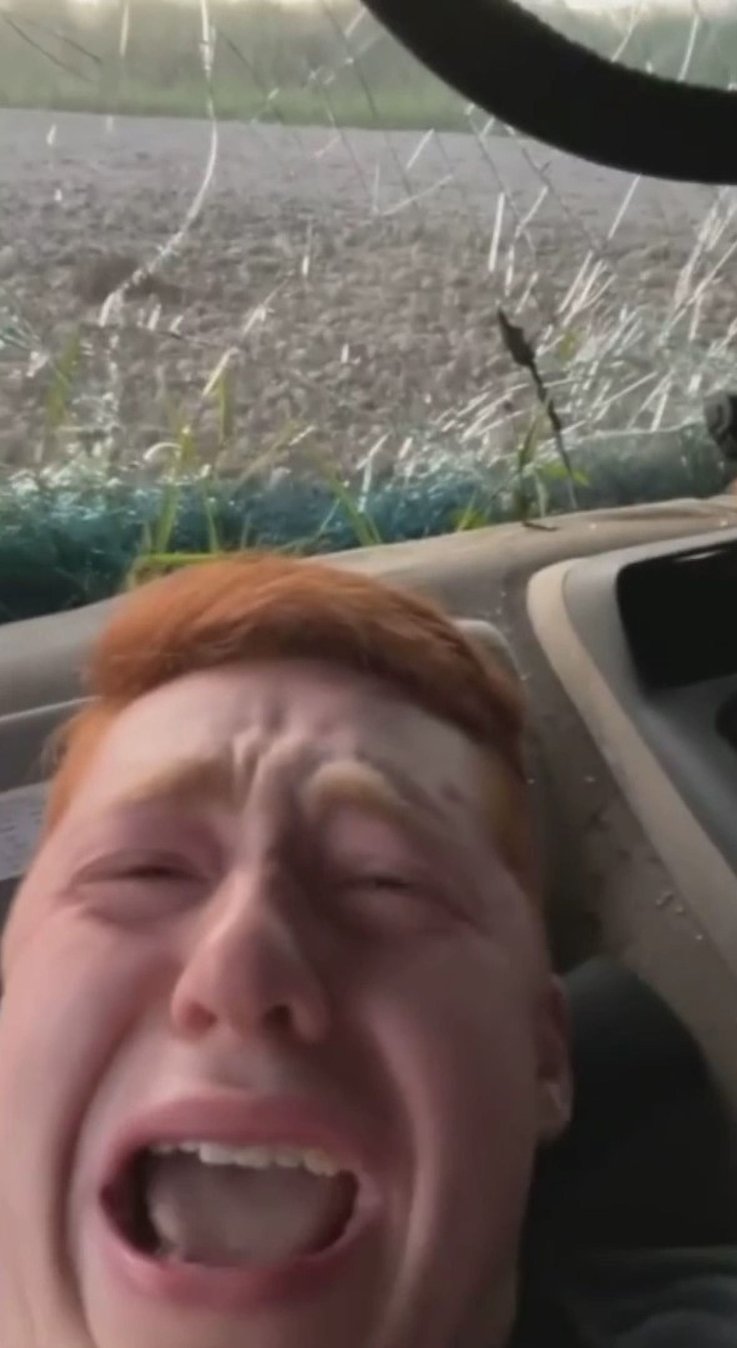 Layne Greedes, 19, was listening to Drake after a serious car accident in Grinnell, Iowa. "I was wondering if the radio stays on when you're in a car accident…and it does," he said in a TikTok video.
@laynegeerdes20/Zenger
"The truck was destroyed. I had no insurance because it was too expensive at the time.
"I canceled my insurance to help pay for an apartment to move into after our house caught fire about six weeks ago."
When asked why he recorded the video moments after overturning his vehicle, Geerdes told Zenger News, "I don't really know what prompted me to film it, but my first phone call was with my mother.
"Then Drake came on the radio and I was so shocked by what just happened that I was like 'why the hell is Drake playing right now.'"
Geerdes has since started a GoFundMe to help pay for a new truck.
He told Zenger News, "My GoFundMe raised $1,500 for a new truck.
"Unfortunately my crash tickets were almost as much as I've collected so far."
However, in an update on Tuesday, Geerdes said he had quickly seen donations double and thanked netizens for their support.
He wrote: "I am completely in shock that you have raised over 3,000 for a new truck and/or car.
"You are amazing. Thank you all, so much. I can't say it enough. I owe you everything."
As of press time, Geerdes had raised $3,972 of his goal of $4,042 to help him replace his truck.
This story was provided to Newsweek by Zenger News.
Not all news on the site expresses the point of view of the site, but we transmit this news automatically and translate it through programmatic technology on the site and not from a human editor.